Doctor of Business Administration (Hong Kong EDB Reg No. 261996)

The UMT DBA is a practice-oriented, high-level professional doctorate program designed for senior executives who intend to expand their knowledge, skills, and abilities to the fullest extent possible. A combination of coursework and research-based program is used to equip graduates with an understanding of modern management thought, as well as a theoretical and philosophical understanding of business administration principles and practices.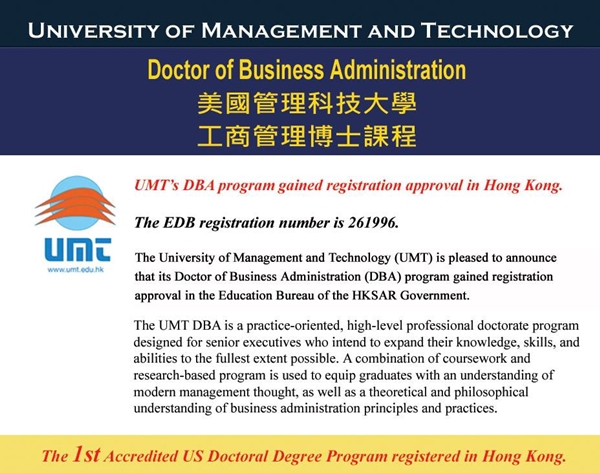 DBA Seminars are offered in weekends for DBA students and the program can be completed in 3 years part time study. Of course, the actual duration may vary depending on the dissertation topic selected and on the time and effort devoted to the work by the student.

| | | |
| --- | --- | --- |
| Courses | Credits | Months* |
| MGT 700. Analytical Techniques in Research | 6 | 1 to 3 |
| MGT 705. Philosophical Foundations of Knowledge & Research | 3 | 1 to 4 |
| MGT 710. Evolution of Management Thought | 3 | 5 to 7 |
| MGT 720. Management as a Behavioral Science | 6 | 5 to 8 |
| Qualifying Examination | | 8 |
| MGT 800. Current Issues in Management | 3 | 8 to 11 |
| MGT 830. Managing Modern Business Operations | 3 | 8 to 12 |
| MGT 860. International Management | 3 | 8 to 13 |
| MGT 870. Technology, Innovation, and Entrepreneurship | 3 | 14 to 17 |
| MGT 990. Directed Research and Readings | 6 | 14 to 18 |
| MGT 998. Special Topics in Research | 6 | 19 to 22 |
| Proposal Defense | | 22 |
| ECON 800. Economic and Financial Theory | 3 | 22 to 25 |
| MGT 839. Leadership and Ethics | 3 | 22 to 26 |
| MGT 805. Business-Government Relations | 3 | 22 to 27 |
| Comprehensive Exam | | 27 |
| MGT 999. Dissertation Research | 9 | 27 to 36 |
| Dissertation Defense | | 36 |
| Graduation | 60 | 3 Years |


* Duration may vary depending on the dissertation topic chosen by the student and the time devoted to it.



Course Description






Duration of Study:
Could be completed in 3 years

Entry Requirement:
The admission requirements are as follows:

Holder of Master degree with the minimum GPA of 3.0 from a recognized university.
Demonstrated proficiency in English
Other equivalent qualifications to be assessed by UMT.


Contact us:
Program Manager
Telephone: (852) 2791-1155
Fax: (852) 3007-4599
Email: admin@umt.edu.hk



Request for more information:
Request.php


It is a matter of discretion for individual employers to recognize any qualification to which this course may lead