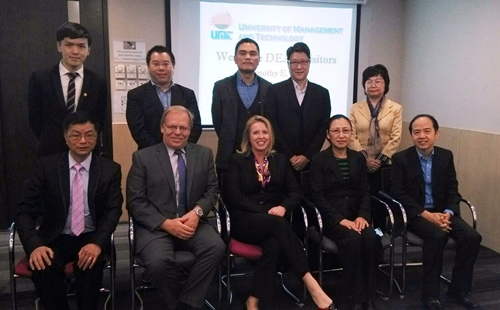 UMTHKAA Executive Committee meeting with US DEAC officials in UMT Hong Kong Centre
Date: March 17, 2016 Thursday

Time: 3pm - 5pm

Guests:
UMT president Dr Chen,
Timothy E. Mott, Commissioner, US Distance Education Accreditation Commission (DEAC)
Nan Bayster Ridgeway, Director of Accreditation, US Distance Education Accreditation Commission (DEAC)

Venue: Admiralty Conference Centre ACC, 1804A, Tower 1, Admiralty Centre, Hong Kong
We are pleased to let you know that we have had a successful and fruitful meeting with US DEAC officials. During the meeting, UMT Hong Kong Alumni Association presented the formation, function, activities and achievement in recent years.


UMTHKAA Executive Committee arranged a courtesy visit of US DEAC officials to meet with the Secretary for Education Bureau, HKSAR
日期: 2016年3月18日 (五)

時間: 下午5時至6時

嘉賓:
教育局局長 吳克儉先生, SBS, JP
教育局副秘書長 陳嘉琪博士
教育局副秘書長 盧世雄先生, JP

地點: 香港政府總部東翼 11 樓

UMTHKAA籌辦了一場香港及美國教育官員的交流活動, UMT校長 Dr Chen聯同美國教育部DEAC官員 Timothy E. Mott 和 Nan Bayster Ridgeway與香港教育局局長吳克儉先生和副秘書長陳嘉琪博士及盧世雄先生作了多方面交流。
Date: March 18, 2016 Friday

Time: 5pm - 6pm

Guests: Mr Eddie Ng Hak-kim, SBS, JP Secretary for Education, Dr. K.K. Chan and Mr. Brian Lo, Deputy Secretary for Education, Education Bureau The Government of the Hong Kong Special Administrative Region

Venue: Education Bureau, 11/F, East Wing, Central Government Offices, Hong Kong

The visit of UMT president Dr Chen, Timothy E. Mott, Commissioner, US Distance Education Accreditation Commission (DEAC) and Nan Bayster Ridgeway, Director of Accreditation, US Distance Education Accreditation Commission (DEAC), to Education Bureau was successfully held on 18th March, 2016.

During the visit, both US DEAC officials and Hong Kong government officials (Secretary and Deputy Secretary for Education) exchanged their viewpoints and sharing. The meeting was appreciated by both parties.

About UMTHKAA
The University of Management and Technology Hong Kong Alumni Association (UMTHKAA) was founded in 2014. As of the founding of the Association, there are more than a thousand UMT alumni in Hong Kong.
With the growing number of graduates of UMT Hong Kong, the Association serves the purpose of providing a platform that connects all UMT alumni together and continues to cultivate and strengthen the relationships of the alumni with UMT, local government and business communities.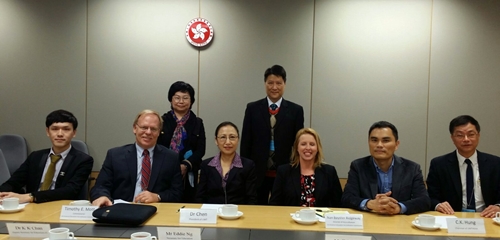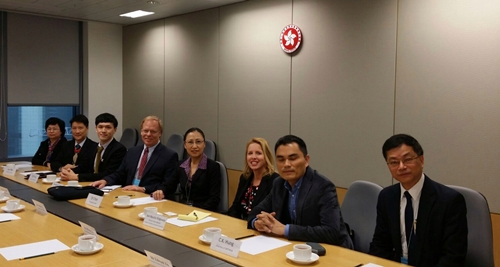 Photos by UMTHKAA