UMT US Graduation Ceremony
Date: 2014 June 21 (Sat)
Time: 9:30am to 12:00pm
Location: Washington D.C., USA
UMT held its 2014 commencement ceremony and reception on Saturday, June 21st, 2014 in Arlington, Virginia. Over 200 graduates, family and friends attended the event.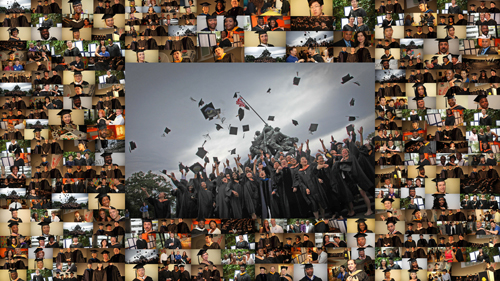 The University of Management and Technology held its 2014 commencement ceremony and reception on June 21, at the Artisphere in Arlington, VA. UMT alumni who graduated in the past five years were invited. Over 200 participants from the US and overseas attended.
During the ceremony, graduate representatives, Mr. Donald T. Gregory and Dr. Weng Chaoshi, shared their unique journey for higher education at UMT. Mr. Gregory started by taking professional development courses in UMT's Project Management Suite and ended with obtaining a Master of Science in Information Technology. He attributed his success to supportive family and employer and the flexibility of UMT's online format. Dr. Weng, who is 80 years old this year, completed UMT's Master of Business Administration program before pursuing the Doctor of Business Administration. He encouraged UMT graduates to network and promote their Alma Mater after graduation.
Dr. Chen, UMT's founder and President, reviewed UMT's journey in the changing higher education landscape to meet the demand of working adult learners in the 21st century, and the university's achievements in the past 15 years since it was founded in 1998. Dr. J. Davidson Frame, UMT co-founder and Academic Dean, reminded the graduates that they are members of a global UMT community.
At the conclusion of the ceremony and reception, the graduates gathered at the Iwo Jima Memorial for a group photograph session.