UMT Graduation Ceremony 2015:
Dr Bard Lord LAM, 2015 UMT DBA Graduate Representative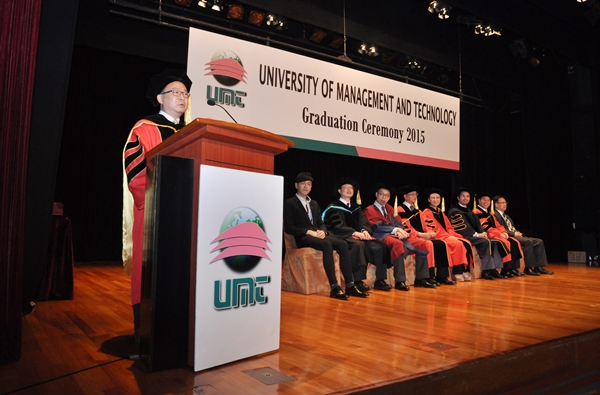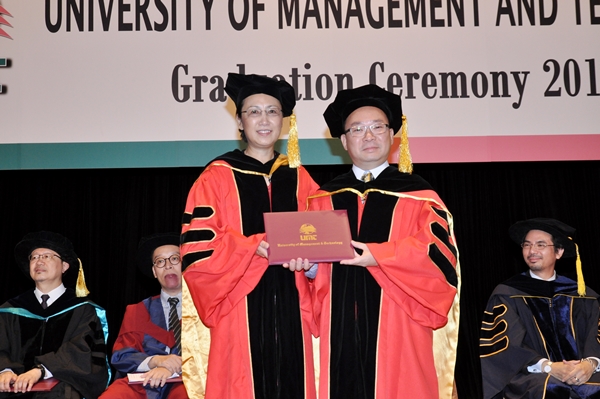 "I am very glad to have this opportunity to share with you how my dream comes true since in about 30 years.
When I graduated from secondary school in 1983, due to undesirable examination results in Hong Kong Certificate of Education Examination (HKCEE), I was unable to follow the traditional route of higher education to pursue University degree through A-Level education. Like my other classmates, I seeked for alternative and to study the Diploma of Electrical Engineering in a Technical Institute and started working in 1985 after graduation. Even though I further pursued a Higher Certificate in Electrical Engineering from Hong Kong Polytechnic in 1988 through evening classes, I knew very clearly that the expectations from business sectors have been much advanced when there were more Degree graduates in Hong Kong.
Recognizing that Higher Certificate will never be sufficient to support my career development in the next 20-30 years of working life, I started to study Post-graduate Degrees through distance learning from universities in the UK and Australia since 1997. After acquiring four Master Degrees in 2004 (including Master of Science in Total Quality Management, Master of Business Administration (MBA), Master of Environmental and Business Management (MEBM) and Master of Arts in Theology), I questioned myself again if I could still be able to have my childhood dream comes true as being a "Doctor".

Since 2006, I have tried different distance learning program of DBA and PhD from overseas universities but the modes of studying were either inflexible or too loose. However, when I noted there is a DBA program from UMT in 2009, I was really delighted because UMT DBA offered a wide range of modules to study and the tuition fee was very affordable. Besides, I do not need to worry if I have intensive travels or business trips because the study packs and supplementary materials are excellent, which enable me to continue my study even I am travelling in plane, train or even car. UMT also offered good dissertation support through step-by-step guidance and evaluation to enhance the completion of my UMT DBA in 2014. I have to say thank you so much to UMT to make my dream comes true.
In brief, if you have a dream, if you want to pursue a higher degree, if you prepare to possess the Doctorate Gown. Don't just sit and wait. DO IT NOW. I can do it, you can do it too"

Click here to view Dr. Lam's full story

Dr. BL Lam
DBA, UMT US
MSc, MBA, MEBM and MA

Dr Allan LEE, 2015 UMT DBA Graduate Representative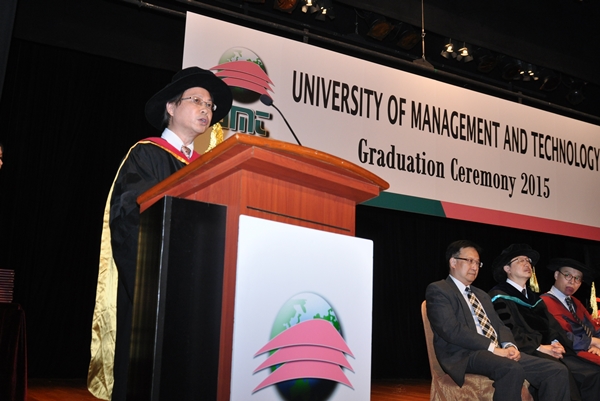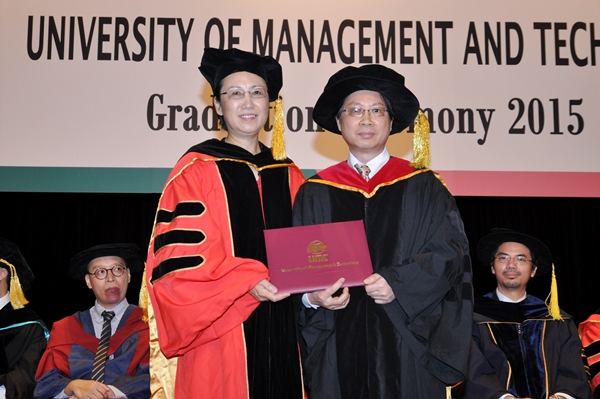 "As the prospect of the librarianship is not as good as expected, there is also a need for me to acquire more knowledge to compete with others in the job market."
I graduated from the Chinese University of Hong Kong in 1982. Having worked as a teacher for many years, I decide to purse a more challenging career. I went to the Lancaster University to study for the M.A. in Education in 1992. In 1996, I went to Britain again, I studied for the M.A. in library & information studies in the University College London. The qualification makes me possible to work as education consultant and librarian in various organisations. I enjoyed the job very much. The only problem for me is not having adequate management knowledge to cope with the development of the organisations, especially in the field of strategic management, human resources management and customer services. Although the problems have finally been solved with the help of the management staff, I thought it is good for me to learn more about business management. As the prospect of the librarianship is not as good as expected, there is also a need for me to acquire more knowledge to compete with others in the job market.
Having got the Postgraduate Diploma in Business Administration in 2009, I decide to further study to pursue a Doctorate Degree in Business Administration. I got an offer from the Queen Margret University in Edinburgh to study for the PhD in Business Administration. However, I have to leave my job to study in Britain for three years. This indeed costs a lot of money.Fortunately, I got to know the University of Management and Technology. I can study for the Doctor of Business Administration without leaving my job. This course is indeed very flexible and suitable for me. In the introduction seminar, I also got to know the background of UMT. This is an excellent University in the United State of America. This greatly motivates me to pursue for the DBA. Throughout the nearly four years studying times, I got much help and support from the UMT Hong Kong staff such as the program director, Ray Cheng, and program manager, Stephen Leung. Among the helpful staff, Dr. Mark Li, a scholar of high reputation is particularly helpful in supervising me to write the dissertation. Undoubtedly, University of Management and Technology is the most flexible and excellent Institute I experienced within my academic life. I have to express my gratitude and thanks to UMT for making my dream comes true.
Dr. Allan Lee
DBA, UMT US
MA (Education), Lancaster University UK,
MA (Library & Information Studies), University College London UK,
BA, Chinese University of Hong Kong
Ms Po Yee TAM, 2015 UMT MBA Graduate Representative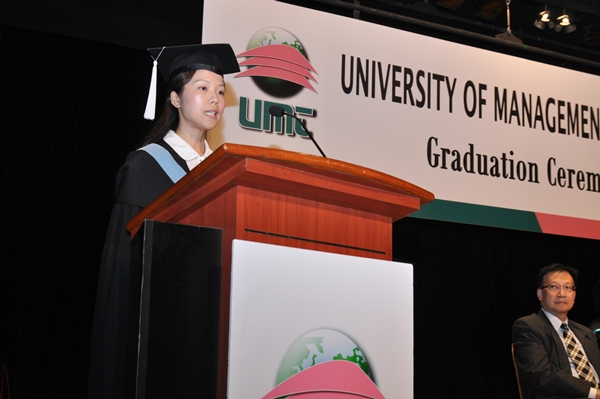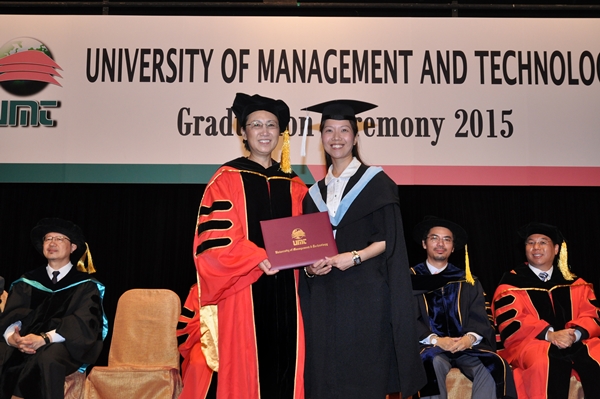 "I have been promoted twice in 4 years and I think that is a solid recognition to what I have learn and contribute, which I am looking for long time."
I have been working at Superpower Pumping Engineering Company Ltd, a subsidiary of a listed company, as an Assistant Sales Administration Manager. My job duties are to manage the sales team, the customer service team and the administration, to achieve the company goal. I obtained BBA in UMT in 2012 and started the UMT MBA course immediately after that. That was really a tough moment for me to have MBA course after my very demanding work in day time but I chose to take this challenge. Time management is very important and I discovered working hard is not enough for MBA. I need work smart.
UMT MBA does give a lot to me. My boss is very happy to know I will take an MBA course. He is always wondering what I have learnt in the course and what insight could be brought to his company. I do learn many useful theories from the MBA course and is helpful to the daily business. My boss started to ask for my opinion occasionally, and now I get more involved in the management decision process even some critical decisions. I have been promoted twice in 4 years and I think that is a solid recognition to what I have learn and contribute, which I am looking for long time. I want to thank you my boss to encourage me to study MBA.
Last year, some of my classmates and I established the UMT Hong Kong Alumni Association, and my post is Vice President. This is a great opportunity for me to try new things in my life. Although I have never been an executive committee of any student association, I am willing to contribute for the UMT family. You are always welcome to join us and I wish to see you in our coming activities.
Time flies. In the 5 years UMT life, I felt much more confident to myself with the MBA and I found people have more respect on me. I really hope to take this chance to say thank you to UMT, my lecturers, my classmates and my family, especially to my husband. He is always with me and gave me unlimited energy. Thank you very much for all unconditional support.
MBA was a "Mission Impossible" in my mind before. Today, I did it. I graduated. I believe "Opportunities are reserved for people who have prepared". The potential of human being is always beyond our imagination. To stimulate our potential, we have to learn how not to give up! I have overcome lot of challenges in past few years and be well prepared, how about you? I hope to see a different of you soon.
Polly TAM
2015 MBA and 2012 BBA graduate