UMT Graduation Ceremony 2014:
Dr Cheung Kong HUNG, 2014 UMT DBA Graduate Representative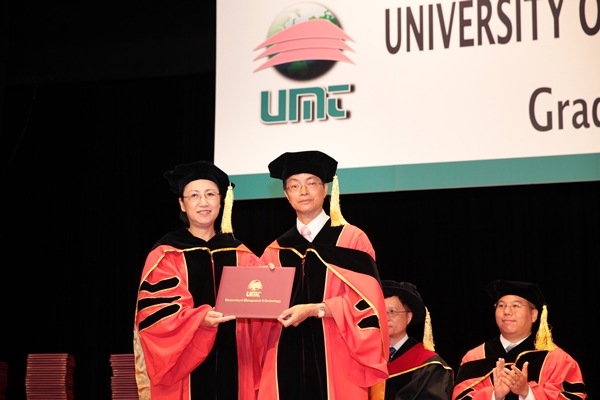 "As an experienced professional engineer with more than 30 years engineering experience and having been a professional engineer for more than 25 years since 1989, as I climb up the top management ladder, I visualize that there are ever increasing need for me to furnish with management knowledge, skills and techniques as well as a gaining doctoral degree award."

Click here to view Dr. Hung's full story

Dr. CK Hung
President, UMT HK Alumni Association
President, Global University Alumni Union
President, Hong Kong Polytechnic Alumni Association
Chairman, Hong Kong Institution of Chief Engineers(FM)
DBA, UMT US
MSc, Hong Kong Polytechnic University


Dr Sze Chun TSANG, 2014 UMT DBA Graduate Representative



"At a doctoral level of education, he was challenged not to limit himself at the stage of problem solving with a technical and pragmatic mindset, but seeing a problem or a phenomenon from a multi-dimensional, conceptual point of view."
As an Executive Director managing a manufacturing company in China in his early thirties, Clive Tsang believes that successful management is an art, which requires individuals to have a creative and critical mind not only solving daily operational problems but to have a readying mindset discovering potential unknown problems and creating new knowledge for the future.
Prior to entering UMT for the degree of Doctor of Business Administration, Clive has an engineering bachelor and master degree. He is a Certified Six-Sigma Black Belt, Project Management Professional, Certified Supply Chain Professional, and a chartered management accountant accredited in the United Kingdom and the United States.
It was a new yet inspiring experience studying the DBA program at UMT for Clive. With all his previous professional education attainment, Clive has learned the skills to solve problems in different aspects in the business realm. However, at a doctoral level of education, he was challenged not to limit himself at the stage of problem solving with a technical and pragmatic mindset, but seeing a problem or a phenomenon from a multi-dimensional, conceptual point of view. In the process of completing this program, Clive was challenged to create his own knowledge and at the same time was inspired to think out of a box in which the box does not even exist. This cognitive training process has changed Clive's perspective in facing the unknowns in the future.
Dr. Clive Tsang
DBA, UMT US
MEng, HKU
CSSBB, PMP, CSCP, ACMA, CGMA

Mr Ody TANG, 2014 UMT MBA Graduate Representative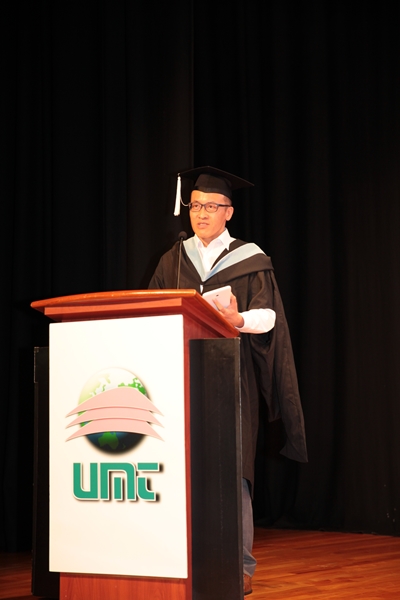 "If you think it is right, you fight and you'll win."
After university, I have been working for multinational corporations for the past 25 years; I believe an orientation toward continual learning (education) is one of the most important attitudes toward life in today's world. As many CEOs have whispered, CHANGE is inevitable! UMT distance education provides me a flexible environment to work and learn at the same time. Managing corporate life is never easy, e.g., engaging with high positive energy, embracing changes, and striving for cost effective but innovative solutions. UMT delivers a learning platform that revitalizes my "soil" and makes me feel great about going back to school again — passionate to learn; optimistic for opportunity; succeeding in human relationships; reaching out from good to best — everything is possible. This is a mental exercise, focused on what you think, how you think, when you act, and what you'll get. As Philip Morris CEO, Geoffrey Bible, put it: "If you think it is right, you fight and you'll win." This statement captures my philosophy of life.
Another motivation for me to pursue an MBA is to set an example for my family members and send a message from the old folk to the younger generations, which is: If he can do it, why can't I? University days were the best time of my life; I hope this is true for everyone else, too. With UMT distance education, I manage to make my dream comes true, and uplift my body and soul, ready to take on the next level of challenges.
Ody Tang
Vice President at MasterCard Worldwide
MBA, UMT US

Mr Man Sum LO, 2014 UMT BBA Graduate Representative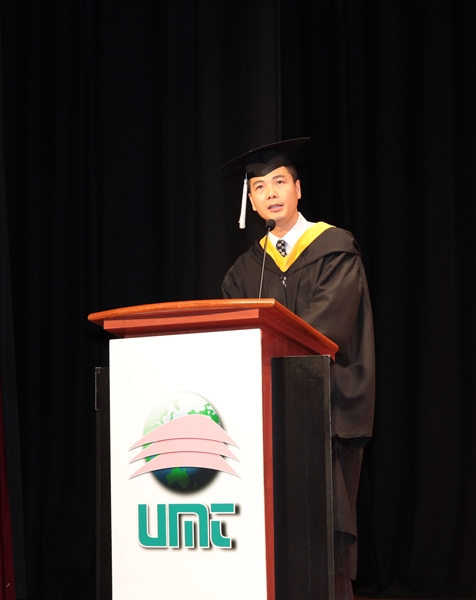 I am a police sergeant. I have joined the Hong Kong Police for 23 years after finishing Form 5. I am a School Liaison Officer under the Public Community Relations Office. Parts of my job are to instill a sense of discipline and positive values in students, give talks in schools as well as give advice to teachers to prevent delinquent behaviours of students.
I have not stopped to enhance my qualification by attending evening schools since joined the Police Force. For the time being, I have completed three diplomas from different institutions. My goal is to get a university degree but I have no idea how to start it until I came to know the UMT through my friend who has stressed to me that UMT has provided the BBA which was absolutely suitable for someone who wants to get professional knowledge in management. The course especially fits for someone who needs to work on shift as the studying time is flexibility.
Sam Lo
2014 BBA graduate


Mr Henry SIU, 2014 UMT BBA Graduate Representative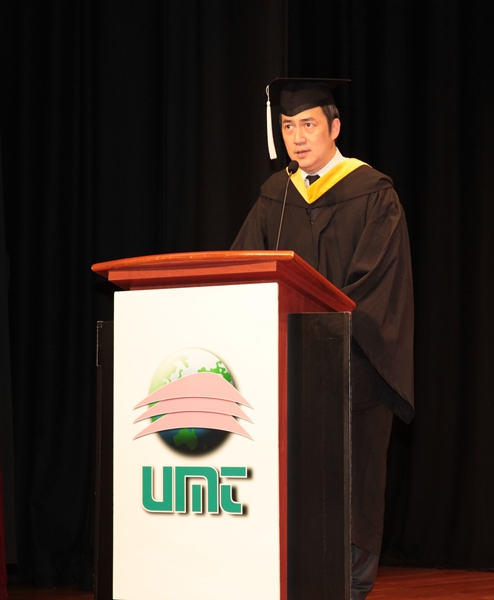 "Life is all about meeting new people, chasing new dreams and overcoming new challenges."
With all the sales and management skills I learned from this previous job, I decided and convinced myself that it was the right and perfect time for me to go ahead and accomplish my passion and my dream since I was young, which is to open up a snooker and billiard club business of my own. The club started off as a small business, and despite all the doubts in my capability from people around me, I managed to stay in the business for nearly ten years. Even though it was only a small scaled business, this snooker club was a successful accomplishment to me as I have put a lot of my time and effort into making all of this happened. As I have made my teenage dream and passion come true, then I moved on and noticed that I had another dream to achieve, and it was to finally get a bachelor degree, which I did not have the chance to do so when I was younger. With this ambition, I applied and got accepted in the UMT BBA program. Meanwhile, I met an extraordinary person, who also acts as my mentor at this stage of my life. He introduced me to the industry of insurance and joined ING Group, which became a new page of my life. As I am now finishing the one and a half year BBA program at UMT, I wish to be able to apply all the knowledge and skills I learned from the program to my new and exciting career.
To me, life is all about meeting new people, chasing new dreams and overcoming new challenges. One should never be too satisfied in the current state. Just like the running water in a flowing stream, our lives should never go stale in order to prove ourselves worthwhile. At the end, I want to thank UMT for offering me an opportunity to achieve my second dream of my life. Without the innovative program, flexible class arrangement and the professional help and tutoring of the UMT instructors, I would never be able to know my capabilities and what really defines me as a person.

Henry Siu
2014 BBA graduate
FWD Life Insurance Branch Manager

Ms Christine SIU, 2014 UMT BBA Graduate Representative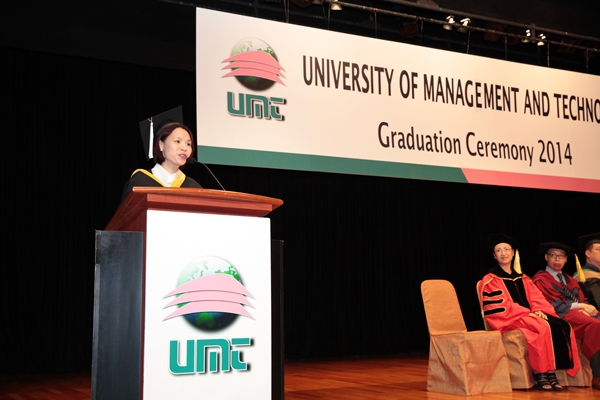 "Continuous learning is worth to do for a better life. I can do it, you can do it too."
I obtained a Diploma in Office and Executive Support in CUSCS and Certificate Programme on the Professional Executive Secretary Course in HKMA in 2012. Currently, I'm a Secretary in one of private hospital in Hong Kong. As a top management's secretary, I should have good time management skills and the ability to juggle multiple responsibilities. I also need other qualities, such as discretion, diplomacy, sound judgment and the ability to solve problems independently. I would like to upgrade my educational qualification and skills, in order to meet broader and higher level duties.
I chose UMT because the flexible program enables me to complete study without having any difficulties to the time spent with my work and family. There isn't any local institution can provide such as good and flexible BBA program.
Christine Siu
2014 BBA graduate